Munnopara Railway Station
The new Munno Para Station comprises of:
Two new 160m x 8m wide, side track platforms.
75m long butterfly roof platform canopy at each platform.
Lift shafts, stairs and pedestrian overpass linking the two platforms.
New integrated at-grade bus interchange, parking and kiss 'n' go facilities.
Public lighting, passenger information system and CCTV security.
---
Single Leap 2 Project Builder - Built Environs
Single LEAP Phase 2 replaces substandard living accommodation for Australian Defence Force personnel with new accommodation which meets contemporary community standards.
Advanced Steel Fabrications' approach was to work alongside the builder and consultants to ensure that the design and construction innovation was applied; this helped to achieve a consistent design and construction methodology. Working together we helped address the projects site-specific variances, as well as geographic and climatic influences. The project involved 38 new buildings with a total of 324 tenancies.
---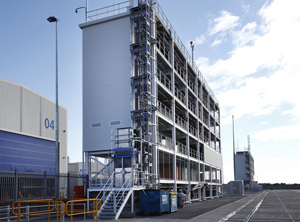 Outfit Support Towers Project
The Outfit Support Towers involved the construction of two, six-storey 37 x 7m, steel structured towers, which will be used to assemble the New Air Warfare Destroyers for the Royal Australian Navy.
These towers were designed to incorporate amenities, lunch rooms, and offices, as well as open storage areas, storerooms, tool stores and workshops.
The project also included a blast and paint facility. This involved the fitting-out of an existing building with new acoustic, dust and fume insulating linings and a 12m high 55m long steel awning; All to be completed within a 37 week construction period.
To fit within the 37 week build program, we worked together with the builder and the engineer to develop a design which incorporated a structural steel clad building, which would also reduce the amount of man hours required in drafting, and in the workshop.
This allowed us to explore different options, taking us away from some of the conventional systems used in fabrication; Such as replacing some welded connections with bolted connections and keeping the grid formation uniform throughout.
All of this was done with the current technology that Advanced Steel utilises, such as specialised 3D drafting software which provides data to automated processing lines which are then able to cut and drill the members.
All of the above enabled us to achieve a goal of reducing shop hours, as well as reducing the time taken to get to site, making the steel option more viable.
We would love to hear about your project and discuss how we can help you achieve a great outcome.