Advanced Steel Fabrications has an extensive range of capabilities, these include:
---
---
PRODUCTION
Capacity to fabricate over 6,000 tonnes of steel and process 8,000 tons per annum

WORKSHOP
Purpose built workshop and office facility on 8,000 sq.m of land with 8 overhead cranes
TRANSPORT
We have our own transport capabilities which includes a "B" Double Rated Prime Mover with various trailers.

OH&S
Our commitment to this ensures that all relevant laws, legislation and standards are complied with.
Quality Assurances & Accreditation
Advanced Steel Fabrications is certified to meet AS/NZS ISO9001:2008 Quality Management Systems.
We can provide a variety of reporting documents, including MDRs, ITPs, Quality Plans, SCurves.

We comply with the National Code of Practice for the Building and Construction Industry and Commonwealth Government Implementation Guidelines.

We are registered with InSkill SA.

We hold a current SA Building Work Contractors Licence – No: BLD 171812
We are registered with Workcover (SA) – Employer No: E 182617096.
Non Destructive Testing
All NDT is outsourced to a NATA endorsed inspection company.
Workshop Technology
DNF 1050 with 3 high speed drill heads which travel 2 dimensionally while work piece is firmly held by vices with a maximum capacity 1025 mm x 500 mm.
DS400, which is fully automatic combined unit with 3 face drills and a circular saw. This will automatically cut and drill various structural profiles. Ideally suited for small section sizes.
GTA 7010 dedicated saw line. This is a high speed cutting unit with a capacity to cut up to 1020 wide x 660 high. This unit is ideally suited for large member section and bundle cutting. Daito CSD2-1050 Drill & GTR –5010CNC Dual Mitre Bandsaw Line System with in feed and out feed tables with an inbuilt scribing marking unit with the ability to process up to 1050mm.
Daito Hypertherm high performance plasma coping robot with a 700mm capacity this is a six axis robot which produces quality bolt holes, cutting and an endless array of copes the unit is remarkably fast, accurate and smooth.
RGS CNC Punching & shearing line for angle profiles with the ability to punch holes from 5mm – 32mm diameter.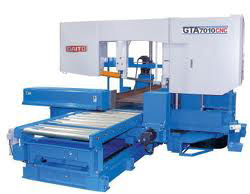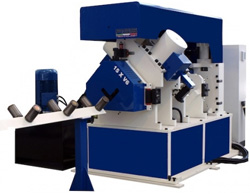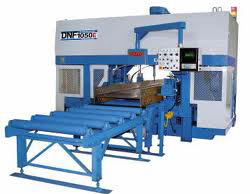 We would love to hear about your project and discuss how we can help you achieve a great outcome.